For Pools
BioGuard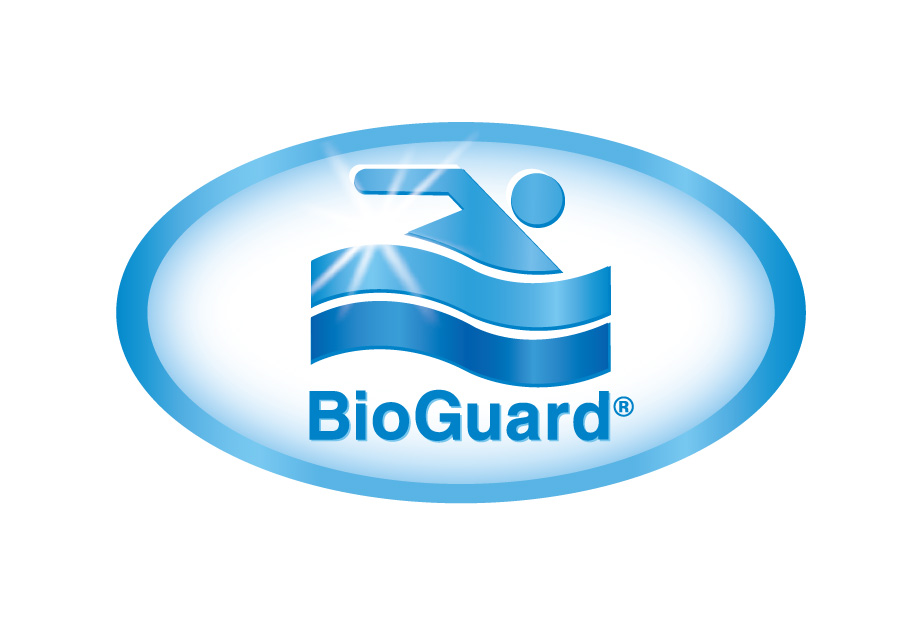 Debnar's Pools and Spas is an exclusive dealer for BioGuard Pool Chemicals offering professional quality swimming pool products and supplies that are the best solution for your pool care. Combined with computerized water testing, BioGuard is the swimming pool care expert. From chlorine to saltwater pool care products and accessories, you'll find the right product for your backyard oasis.
Stop in to one of our locations in Blairsville or Indiana and have your water tested through BioGuard's exclusive water testing technology. We will customize a pool maintenance plan for you and you will work on your pool less than 30 mins a week.
Featured BioGuard Products
BioGuard 3-Step Care System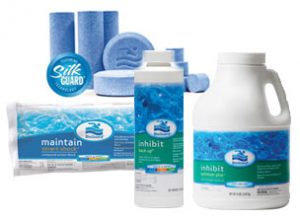 Great for busy pools of any size or surface type, this system should be used with pools featuring good water flow through skimmers or equipped with a chlorinator. Even with consistently heavy bather loads, you'll enjoy effective results throughout the pool season. Products in this system vary, but the same three basic steps apply.
BioGuard's 3-Step Care System is ideal for:
Consistently heavy pool usage
Pools of any size
Proper water flow through skimmers or chlorinator
Pump circulation 10 to 24 hours per day
The Once-A-Week 3-Step Program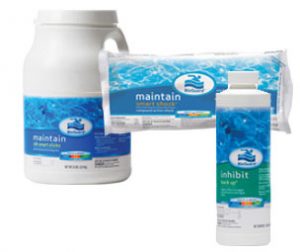 From start to finish, the Once-a-Week 3-Step program takes just minutes of your time, only once-a-week! That's minutes, instead of hours, to keep your pool water crystal clear and brilliant.
BioGuard's Once-a-Week 3-Step Program is Ideal for:
Pools up to 25,000 gallons
Above-ground and in-ground pools
Pump circulation 10 to 24 hours per day*
Proper water flow through skimmers, with adequate skimmer basket area
Any surface type
It's as easy as 1-2-3! Sanitize, Oxidize and Prevent Algae
SpaGuard by BioGuard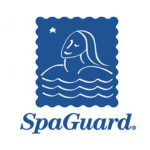 Utilizing the expertise of BioGuard® spa and hot tub chemicals (SpaGuard® or Soft Soak®), Debnar's Pools and Spas make spa care simple. We will provide you with a customized program to give you soft, soothing water, so that you will spend more time relaxing in your spa than working on it.
Enjoy a trouble free experience in your spa with the help of Debnar's Pool and Spas and BioGuard products.
SPA FROG® In-Line System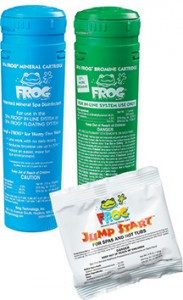 A select group of hot tubs from Debnar's Pools and Spas have built the SPA FROG® Fresh Mineral Water hot tub system into their hot tubs making caring for your water even easier. The SPA FROG® In-Line Fresh Mineral Water system offers water care that is built directly into your hot tub. FROG Fresh Mineral Water hot tub care is extremely effective while providing softer, crystal clear water for your enjoyment.
This cartridge system is a no stress water care system. It kills bacteria, lasts up to 4 months and is easy to use with weeks of consistent water sanitation.
With either option, Debnar's Pools and Spas offers the perfect chemical solution tailored to the requirements of your hot tub or spa.